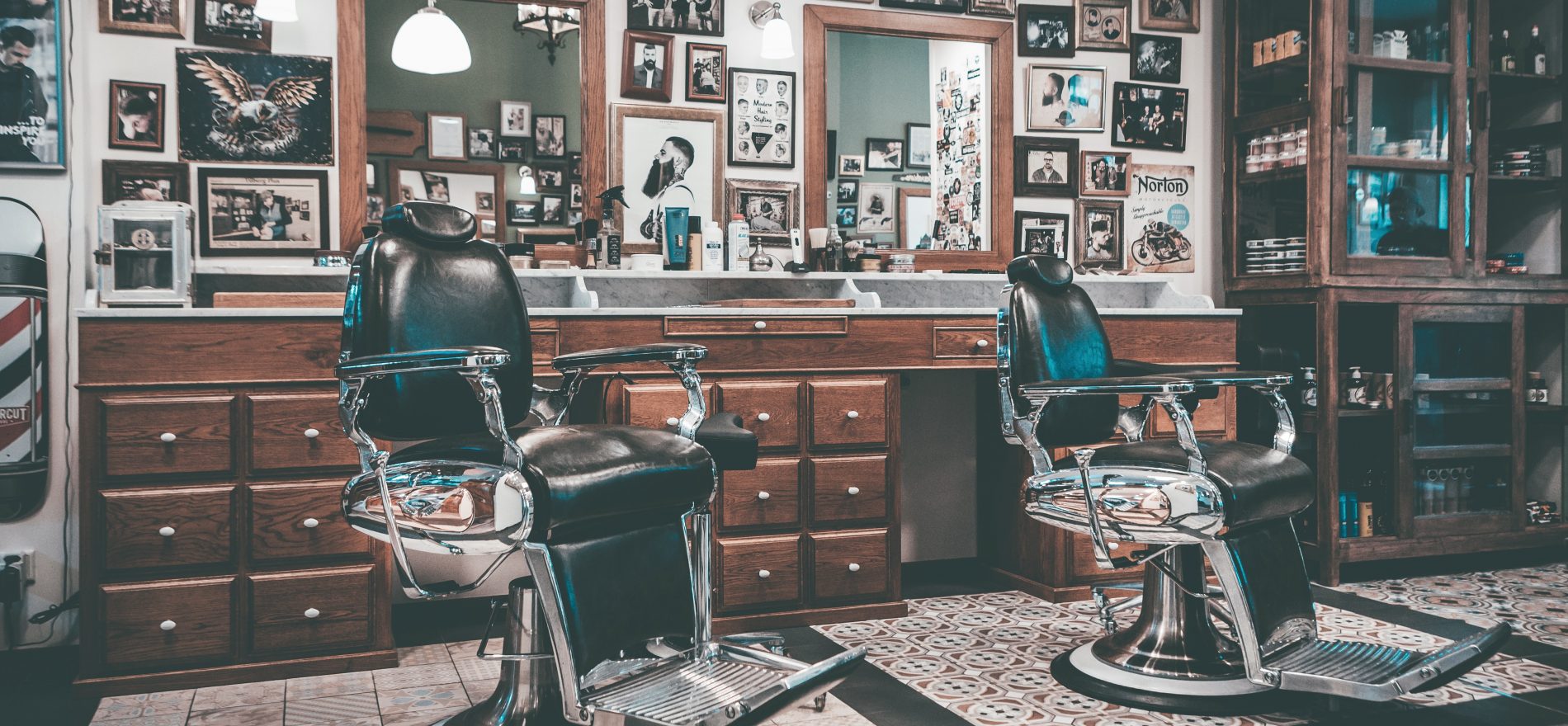 Squatch Picks | Best Barber Shops in All 50 States
The Best Barber Near You
There's a time and a place for being a mountain man, but even mountain men need to clean it up every once in a while. There's a whole world of barbers out there- from barbershops more bar than shop to classic cuts & old fashioned shaves, we promise that once you find the place you like, you'll never go back to your strip-mall haircut. No clue where to start? 
We're here to keep you lookin' good no matter where you are, with our Squatch Picks for the Best Barber Shops in all 50 States. Keep reading to find the best barber shop near you!
Squatch Tip: How you care for your hair at home is even more important than where you go to get it cut. Maintain your mane with quality, natural products that will keep you feeling (and looking) as good as the day you saw the barber.
Alabama
Greasy Hands Barbershop in Huntsville, AL boasts stellar reviews from every guy who's gone. A particular favorite: their old-fashioned neck shave starting off with a hot lather and steam towel.
Pro tip: Get a professional level shave at home with this high-quality, classic shaving kit that has it all. The only thing it doesn't have? Someone else to do it for you. 
Alaska
Man Spa in Anchorage does it all: killer haircuts, beard designs, straight razor shaves, and massage therapy. Premium haircut and grooming packages (and a pool table) make it a true manly man's spa.
Arizona
Arizona's definitely gunning for the Coolest Barbershops Per Capita award, but Who's Next Barber stands out among the competition. They create awesome cuts and designs that, as their motto says, help men be men. They're talented, well-priced, and hilarious—what more could you want?
Arkansas
Handle Barbershop gives downtown Little Rock, AR its most classic cuts and shaves—homages to classic barbering at its finest. An old-fashioned Razor Shave gets you a sharp, straight razor shave complete with hot and cold towels infused with natural woodsy scents, like cedar and peppermint.
After your trip to the barbershop, you can recreate your experience at home with cedar citrus and spearmint scented soaps to tide you over until your next professional shave.
California
What's better than a great barber? A great barbershop that's also a great bar. Barber Lounge doesn't just give you world-class barbering services—they've got a full lounge and sports bar so you can watch the game, get a seriously badass shave and have a drink, all at the same time.
Colorado
Floyd's 99 Barbershop is Colorado's go-to for old-school takes on styles for the modern man—think everything from their five-star Floyd's Cut (for short cuts above the ear) to Design Work that uses clippers, scissors, and straight razors to etch a one-of-a-kind look into your hair.
Connecticut
New Era Barbershop's motto is setting trends for a new era, and with dozens of five-star reviews, they're clearly doing just that. Guys of all ages come to New Age for superior cuts, shaves, beard trims, and more.
Delaware
This popular barbershop ranks among Delaware's finest. Polished Barber Company offers a no-frills, relaxing barbershop experience that will keep you looking your best. They offer complimentary shampoos and a range of hair and beard options. 
Florida
Sit back with a nice cold Whiskey Ginger and relax as the top-notch barbers at Best Barber Shop shave, sculpt, and tame your hair into a real man's mane. Nothing beats an old-fashioned whiskey and a close hot towel shave.
Georgia
Unique Cuts Atlanta wants every man to be self-made. Their barbers offer specially tailored cuts and a serious shave process that starts off with a warm towel, firm exfoliation, and finishes with the closest, smoothest shave of your life.
Hawaii
Phil's Barber Shop offers an all-in-one barbershop experience that sets men up to be Men—with an uppercase M.
Named after the owner's grandfather, a lifelong barber himself, this shop does everything from simple cuts to signature packages. Our pick: the Godfather Shave. It starts off with a hot lather and hot towel infusions, then shaving cream is applied with an Italian-made shave brush, before an ultra-close straight razor shave and final facial massage.
Idaho
Ice-cold beers and giant flatscreen TVs are just the beginning at Craftsman Unlimited: this veteran-owned business offers a unique business model—you pay for a subscription, which covers as many haircuts a month as you want—that keeps guys looking sharp (and believe us, we know a thing our two about men's grooming subscriptions). Not ready to subscribe? No worries—you can still sip on a Craftsman cold one with a single appointment.
Illinois
There are tons of great barbershops in Illinois, but Chicago's Blind Barber does double-duty with first-class barbers creating phenomenal cuts up front and a cool, retro-themed speakeasy in back. Start off with a tailored haircut, then step back in time with a bougie grilled cheese and cocktail.  
Indiana
Warfleigh Barber Shop makes Indianapolis a seriously cool contender. They're walk-in only and feature minimalistic services including simple haircuts, beard trims, hot lather shaves, and neck shaves. They occasionally do pop-up appearances in different areas of the city, so keep an eye out for the "book for pop-up" button on their website!
Iowa
Scissors & Scotch is Iowa's standout barber. In their own words, they're "where traditional barbering and modern spa services meet your favorite watering hole"—an all-in-one grooming experience that hits all the right notes. If you want to view the menu before signing up for your Fifteen Year full service haircut and style, check out their cocktails and tap menu.
Kansas
Hudson Hawk is a powerhouse of a barbershop that keeps the men of Kansas looking sharp. Pick your cut, fade, or shave of choice, then sit back and relax with hot lathers, refreshing cold towels, and a vibrating shoulder massage.
Kentucky
Sometimes, a man doesn't want 'extras' in his grooming experience. For that man, we present Spanky's: an old-fashioned barbershop with great service that specializes in great cuts and shaves. 
Louisiana
The Parker Barber uses modern grooming technology at its finest to create an old-school barbershop experience. It's New Orleans, so naturally there's alcohol involved. Try a signature cocktail or crack open a beer while you get groomed by some of the best barbers Louisiana has to offer.
Maine
Take your man-cave, and make it classy. That's just a hint of what's waiting for you at Blind Pig Barber: part chill lounge (drinks included) and part gallery of grooming- it's no wonder this shop and salon is the Maine man's favorite place for a haircut, shave and drink.
Maryland
The Old Bank/Market Barbers bring the tradition of a good barbershop to a new era, from their meme-filled Instagram (you know we love memes) to the motto on their homepage: variety is king.
You won't find surly-faced barbers who want you to shut up and take the haircut they give you—instead, you'll get a complimentary drink and a skilled, creative barber who wants to make you look great.
Massachusetts
The Santana Company Barber is based in Worcester. Classy cuts and cool designs are a favorite for the men of Massachusetts, whether your style is cutting edge or old school.
Michigan
Old meets new for a men's grooming favorite at Detroit Barber Co. With two locations in Ferndale and Corktown, this barbershop designs Michigan's world-class haircuts, trims, and shaves the old-school way.
Minnesota
When it comes to all-in-one grooming experiences, Minnesota's Mens Spa Salon is a top choice for old-fashioned cuts and rejuvenating treatments alike. They've got everything from classic men's cuts and straight razor shaves to hot towel treatments and organic products.
Mississippi
Dane's Barbershop brings old-school barbering techniques to Mississippi's men with precise cuts and total grooming mastery- their Beard Shaping services are five-star. They deliver great cuts for rugged guys. 
Missouri
V's Barbershop is an old-fashioned neighborhood barbershop updated for the needs of the modern man. Inspired by the owner's memories of going to the barber with his dad as a boy, V's offers more than a great haircut & shave—it's an experience. Sit back in one of their authentic leather barber chairs and experience the ritual of barbering, provided by real professionals.
Montana
Montana's Barbershop and Shaving Parlor offers a chill environment, man cave-like amenities, and killer cuts and shaves that make men look like men, including a traditional Hot Lather Shave.
Nebraska
The Surly Chap Barbers is barber-owned and operated- they make it easy for the men of Nebraska to "clean up their act" (their words). Each licensed barber is a master at making all aspects of a man look great, from beard shaping and trims to straight razor shaves and haircuts.
Nevada
A day at Derby Supply Co starts strong with your choice of spirits, including scotch, bourbon and beer. Once you have a drink in hand, get ready for a steamy hot towel that sets up your hair and beard for grooming glory, from close fades to old-fashioned shaves and mighty 'staches.
New Hampshire
Lucky's Barbershop creates exceptional shaves and styles for the men of New Hampshire. They have two great locations—the original is in Concord, but they also opened a reservations-only location in Portsmouth.
New Jersey
The Made Man Barber is inspired by old-school Italian barbering but 100% designed for the modern man. Their signature haircuts and precision shaves guarantee that you'll walk out relaxed, satisfied, and looking fine.
New Mexico
New Mexico has a lot of small, classic barbershops and a bunch of modern, high-end ones. For the best of both worlds, go to Albuquerque's Fade Station. They do a little of everything, using traditional barbering and modern styling for maximum grooming impact.
New York
Sometimes a man needs more than a shave and a haircut. He needs a shave, a haircut, a whiskey, and a new leather belt. Brooklyn's Black Rabbit Barbershop is part barbershop and part leather studio. Start off with a whiskey and haircut, then check out their selection of fine leather goods from AWL&MAUL.
North Carolina
The Renaissance Barbershop keeps the men of North Carolina looking sharp, from beard trims and haircuts to hot lather shaves, custom designs, and shape-ups.
North Dakota
The Barber's Wife says it best: "You can't get shit done if your hair ain't right." Run by a husband-wife duo with years of experience creating custom haircuts and designs for men in both North Dakota and Minnesota, this barbershop takes a straight-talking approach to style.
Ohio
Cool barbershops are par for the course in Ohio's capital city, but for an old-fashioned shave and haircut, go to Santarelli's Barbershop. This classic barbershop has been around since 1984 and offers superior shaves, cuts, and fades at great prices—a cut runs just $23.
Oklahoma
This classic Oklahoma barbershop sticks to their principles of honor, dependability, and quality. Weldon Jack's barbershop services look minimal at first—they offer just a few different cuts and straight razor shaves. Truth is, they're masters of the art, and make every man feel and look his best.
Oregon
Throne Traditional Barbershop has one simple mission: treat every customer like a king. That means top-notch haircuts, professional straight razor shaves, and quality booze while you wait. Just sit back in one of their custom-made leather chairs and enjoy. 
Pennsylvania
A small chain of four barbershops across PA, the Modern Male Barbershop brings traditional barbering to the modern world. Their barbering combines great value and killer cuts with inspiration drawn from the traditions of old world neighborhood barbershops.
Rhode Island
This Rhode Island staple combines all the coolest elements of barbershops and sports bars, making it the perfect man cave. You'll find pool tables, a 100in projection screen, multiple TVs and leather chairs in the shop, making it the perfect place to hang out after getting a  straight razor shave and rugged skin fade.
South Carolina
Frank's Gentlemen's Salon is a modern tribute to the time-tested traditions of classic barbershops around the world. The shop offers exceptional barbering defined by precision and detail—plus relaxing extras that will keep you refreshed and looking sharp.
South Dakota
The Man Salon takes barbering to a new level with relaxation that makes men feel like men. Chill out in their leather club chairs and watch the game on big screen TVs, or have a snack and a drink as you browse Sports Illustrated. Did we mention they cut your hair in a private suite that comes with a classic leather barber chair and LCD TV?
Tennessee
Whether you know them from their days as Frank's Barbershop or as Gambuzza's today, this Knoxville barbershop stands out. Step into their lounge for a game of pool and a drink, then the barbers work their magic with hot towel shaves, men's facials, and contemporary styles. 
Texas
The Good Life Barber Shop is a homey, friendly barbershop where guys can get comfortable and give their grooming a serious upgrade with professional cuts, shaves, and styling. Shoulder massages and the Barbershop Brewhouse brews are a plus!
Utah
There's only three services on the menu at City Barbers, and they're all spectacular. There's the classic haircut (which comes with a complimentary beard trim) and the traditional straight razor shave complete with hot towels and hand-whipped shave soaps from London. And for those days after a long night when your grooming routine is AWOL, there's the "hangover therapy treatment" —a cleansing, exfoliating, and hydrating treatment that ends with a relaxing massage. Hangover cured.
Vermont
Old Soul Barbershop is one of Vermont's top picks for finely tailored haircuts and hot towel shaves. With only four barbers, it's a small shop—but with huge impact. They're cash only and don't take reservations, but the awesome haircut is worth the wait. 
Virginia
The Ultimate Barber makes it easy to get creative. They're a progressive, modern barbershop that takes inspiration from old-school barbering to deliver the most awesome cuts and styles for every customer.
Washington
One of our quirkier barber shops, Bang Barber is part of the larger Seattle-based Bang chain of salons, bringing exceptional skill and precision to every cut and shave. Their unique philosophy is inspired by Frank Zappa.
West Virginia
The Razor and Shear's progressive take on the traditional barbershop experience makes it an obvious favorite for the men of West Virginia. You'll find all the standard hair, grooming, and beard services, but the Gentleman's Deluxe package is the ultimate in barbershop relaxation.
Wisconsin
Stag Barbershop is a place for the modern man. Classic yet innovative, this shop boasts the best of both worlds, with everything from buzz cuts and rugged designs to hot lather head shaves and shoe shines.
Wyoming
Martin Barber Co. is an old-school barbershop with added spice. Yes, they can they trim, shape, and shave both precision or classic styles- but the personality in this place is really what keeps everyone coming back time and time again.
That's All 50!
Whether you're a manscaping pro or don't even know what type of haircut to ask for, you owe it to yourself to stay on top of your grooming game with a professional cut that makes you feel like a man. A little self care never killed anyone.
At Dr. Squatch, we believe that every man should feel good about treating themselves right with high quality, natural products. After you practice some self-care at the barber, keep feeling like a man and smelling like a champion every day by using Dr. Squatch. 
Related Posts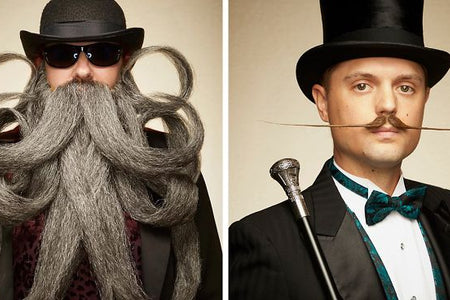 Mon, Sep 18, 2023• Squatch Men: Lifestyle
In case you missed it, the World Beard and Mustache Championship is a thing and it's every bit as f-ing glorious as you can imagine. Every year, be...
Read More